Looking for an exciting theme to decorate your child's bedroom? Give your toddler or teenager an out-of-this-world experience by creating a space themed nursery or kid's room. This theme is a fun and versatile way of igniting their imagination and awakening their curiosity about the solar system.
Whether your child is inspired by the movie Star Wars or intrigued by the night sky, our fascinating space themed bedroom ideas are sure to create an early fascination with science and the universe. Are you excited already? Let's explore this much-loved motif by browsing through our 11 examples right here:
Space Themed Kids Bedroom Ideas
Glowing Stars on the Ceiling
Bring the night sky inside by creating a delightful atmosphere. Decorate your little one's bedroom with some beautiful glow-in-the-dark adhesive stars on the ceiling. This is the easiest way to turn an ordinary bedroom into a starry one at night. Blend the stars with the sky by opening the window. Since many children aren't comfortable falling asleep in the dark, luminescent stars will help them relax and gaze up towards the ceiling until they fall asleep. This is such a straightforward space design that you'll want it for your own bedroom too! After all, staring up at shining stars makes us feel calm and relaxed, doesn't it?
These super bright glowing stars are excellent for a nursery or kid's bedroom. The self-adhesive stars will turn the bedroom into a magical galaxy and are ideal for boys or girls.
Solar System Educational Rug
A space-themed rug is the least expensive addition to a child's bedroom. For the curious-minded junior, an educational round solar system rug will encourage your little one to play on it and learn one or two things about the universe.
A great example is this high-grade nylon solar system rug in the color blue. The rug has a non-slip rubber backing that prevents your child from skidding on its surface. The colorful stars and planets with different numbers and letters represent the solar system and encourage your child to learn and discover the outer universe. This interactive rug is a must-have in a space-themed bedroom!
Space-Themed Wall Art
How about another inexpensive way to effortlessly decorate your teenage son or daughter's bedroom by hanging an abstract painting of the universe. This wall art idea will infuse a touch of originality to the space-themed bedroom. When you add other similar accents on the adjoining walls, the painting will beautify the room by standing out as a focal feature.
The canvas wall art we've picked here features vibrant colors of planets with a quality wooden inner frame. This abstract painting is a beautiful addition to a teenager's bedroom.
Solar System Wall Mural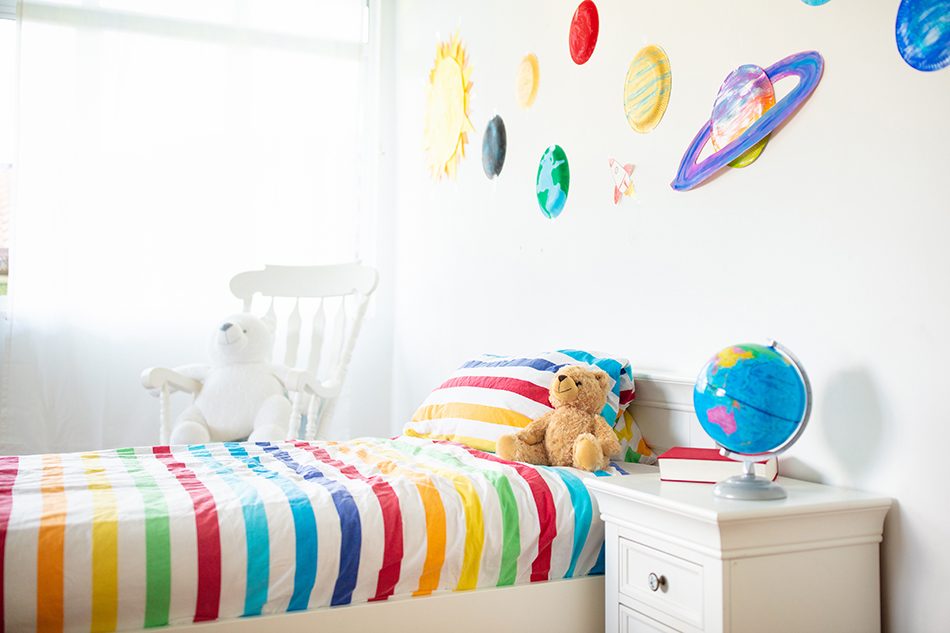 A solar system wall mural is a brilliant space theme design to beautify your child's bedroom. Simply stick the solar system mural to the wall and complement the look by adding some decorative pieces. For example, a large globe next to the bed and a rocket toy go well with a solar system planet mural. This boy's nursery boasts a simple, yet inspiring space-themed design with 3D colorful planets on the wall above the bed.
Intergalactic Lighting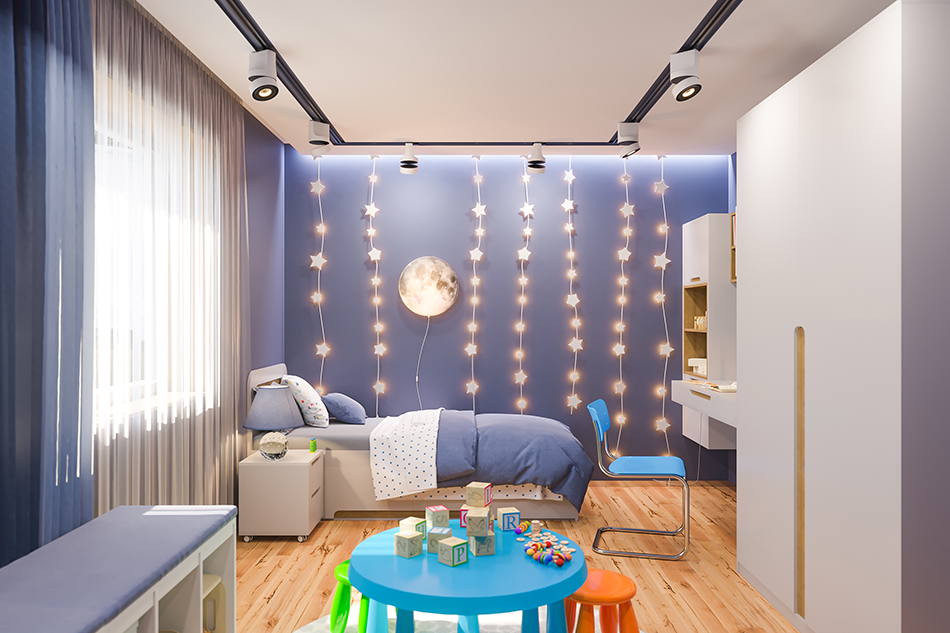 To ignite your child's imagination in their bedroom, help them dream about intergalactic adventures by setting the tone with space-themed lighting. Hang strings of glowing rocket lights from the ceiling or a corner wall to achieve nighttime illumination when all the lights are off. You can also add additional lighting in the form of bedside lamps in the shape of a planet for a soft glow. The right kind of lighting will help your child drift off to sleep, but the key is to mix and match different light shapes and colors to transform the bedroom's interior into an outer space.
Smart LED lights work just as well to enhance your child's space-themed bedroom design. You can place these LED lights just about anywhere in the room. They come in all sorts of colors and hues, in round shapes so your child can associate them with different planets.
In this boy's space-themed bedroom, the glowing star-shaped lights are hung on strings, with a 3D moon-shaped light to complete the look. We love the blue color of the wall that represents the sky along with the matching bedding.
Retro Space Themed Furniture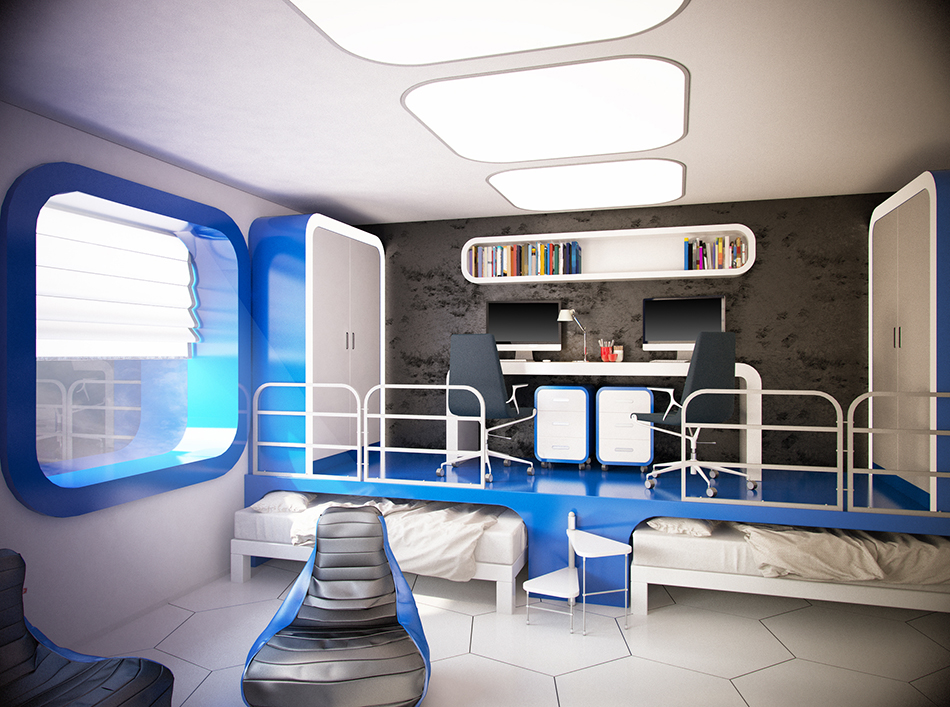 Bedroom furniture plays an important role in how you decorate the space based on a particular theme. When it comes to a space theme, you have numerous furniture options, from rocket-shaped chairs to space-ship beds. To match the theme perfectly, be sure to incorporate dark and light colors according to your child's gender. For example, for a boy's bedroom, go for blue and white furniture to bind all the elements of outer space together. And for the girl's bedroom, a bold shade of pink will work nicely. Add retro bookshelves and a work desk that looks like something out of the movie Star Trek to complete the theme. You can use this example here to get a better idea of space-themed furniture for your child's bedroom.
Galaxy Curtain
So far we've mentioned space-themed furniture, rug, and lighting, but let's not forget the window covering. Every bedroom needs a curtain after all! To continue the theme, hang a galaxy curtain featuring the outer universe. The best example we've come up with is this rod pocket nebula planet curtain, which is especially ideal for a girl's bedroom. It features two panels measuring 84 inches by 63 inches. The eco-friendly curtain can effectively block out 50% light and the best thing about it is, the material is wrinkle resistant so you can easily wash the curtain without worrying about ironing.
Outer Space Bedding
If you want your child to look forward to going to bed, why not give them space-themed bedding for some intergalactic inspiration! Even better, let them choose their favorite bedding motifs themselves. The bed can now be the center of attention in your child's bedroom with a thrilling outer space design on the pillow cover, bed sheet, and comforter. And to go one step further with this theme, match the bedding with wallpaper featuring similar motifs.
Here we have picked an easy-to-wash microfiber bedding in black and red colors that include one comforter, a flat sheet, a fitted sheet, one pillowcase, and a sham. The space theme consists of rockets, stars, and the moon. The fabric is made from 100% polyester, which is gentle and soft to the touch. We particularly like the cozy comforter that's sure to keep your little one warm and comfortable in winter.
Science and Space Motif Wallpaper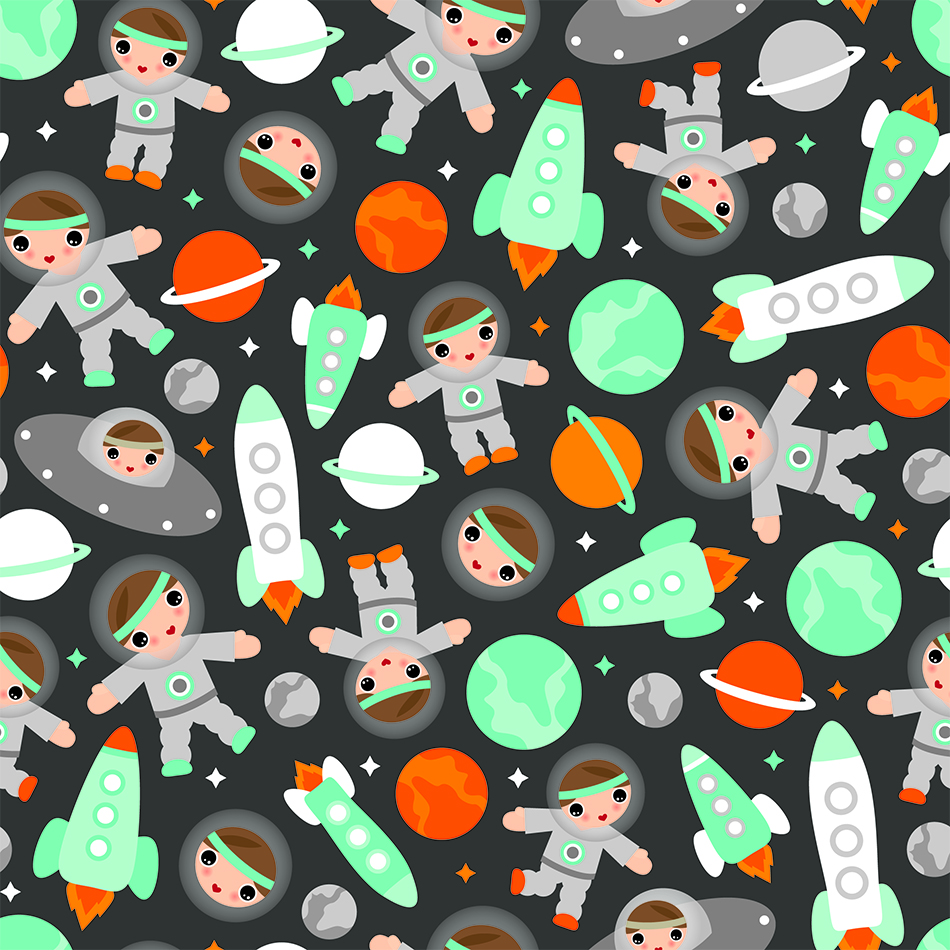 We've just mentioned a space-themed wallpaper to go with your child's bedding. How about designating a wall in the nursery or kid's bedroom as the constellation area. You'll want to pick a wallpaper motif that excites and intrigues your little ones so they will be inspired to spend time playing in their room. For example, the motifs of astronauts, rockets, and spaceships are a sure-fire way of bringing a smile to your child's face.
Full Moon on the Wall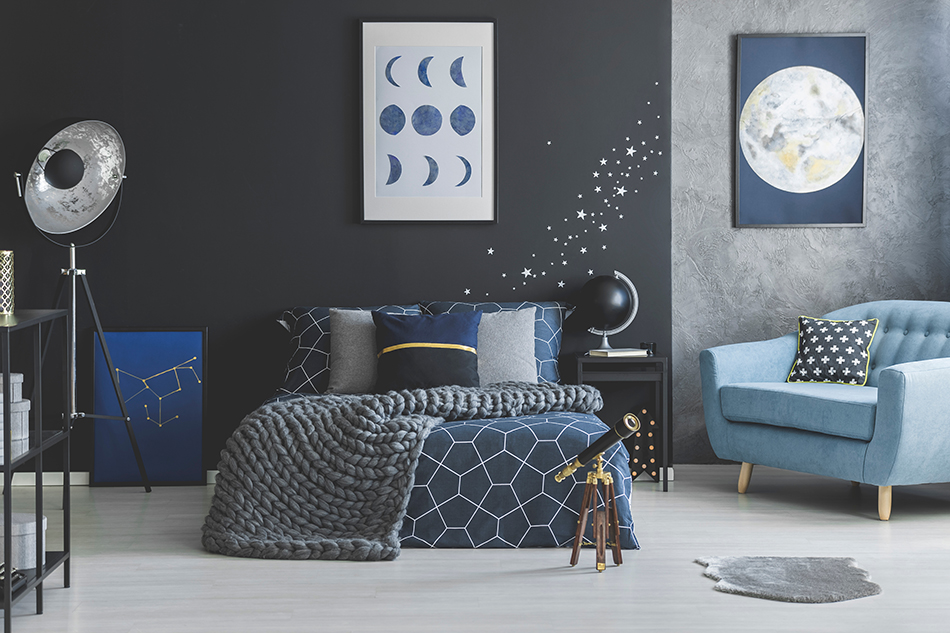 Few wall arts are as beautiful as a perfectly spherical image of the moon shining on the wall. For teenagers' bedrooms, have a display of moon images on the wall with a real telescope to encourage your child to stargaze. A perfect example of how you can create a space-themed starry bedroom is the one right here. With this theme, your child can take in the beauty of the full moon without even opening the window!
A Captain's Bedroom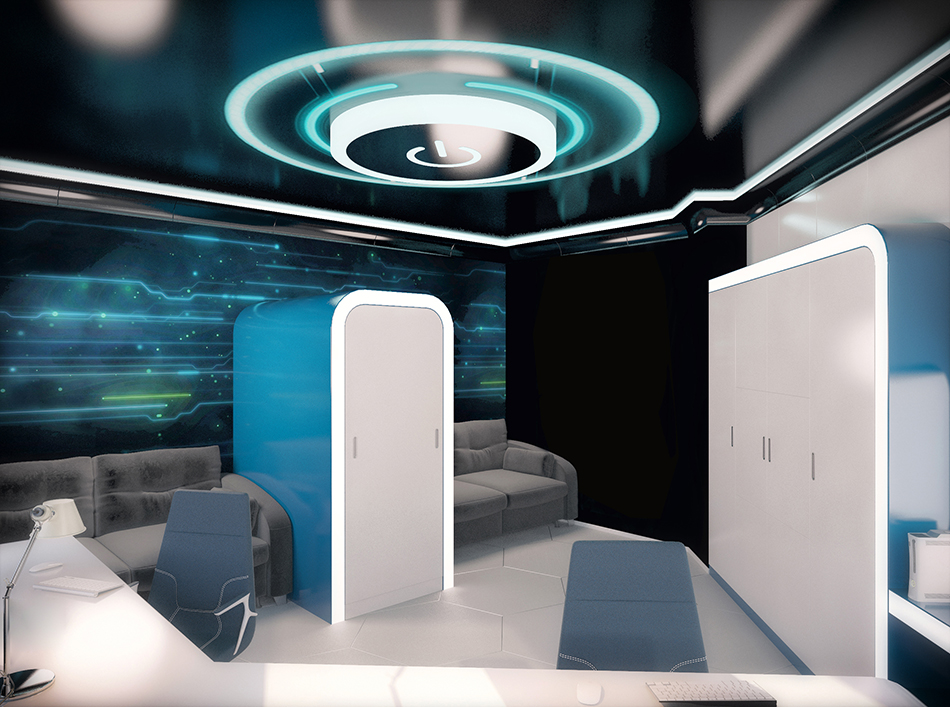 If you want to go the whole hog and give your teenage child a unique bedroom, wouldn't it be cool to create an outer space bedroom in a futuristic design. The moment your child enters the room, they'll feel like they are aboard a spaceship and ready to take off. In this example, the surrounding LED lights on the ceiling are so mesmerizing that your child will feel like they are going to leave the Earth on a mission to Mars. The encapsulated bed and seating area look futuristic and out of this world. If you have the budget to create an over-the-top space-themed bedroom, then this is the one to go for!
Conclusion
The next time you are thinking of an exciting motif to decorate your child's bedroom, consider the most popular and mentally stimulating theme: the outer space! We hope you found our space-themed bedroom ideas inspiring enough to implement in your nursery or kids bedroom. All our examples (except the last one!) are inexpensive and easy to find in online stores so you won't need a big budget to create this theme.
Read also: