Many of us have associated summer with having a cookout for friends and family. Grilling food not only sounds, smells, and tastes mouth-watering, but it's also a great way to hang out with your loved ones.
And let's face it—having an outdoor kitchen can make cookouts less tiring because you don't have to run back and forth between the kitchen and the grill to get your ingredients. It also spares you of having to bring all the leftovers back into the kitchen when the party's over.
You might have toyed with the idea of having an outdoor kitchen in your place. However, you've always been concerned about the costs of putting up an outdoor kitchen. How much would it cost you? Continue reading to find out.
Appliances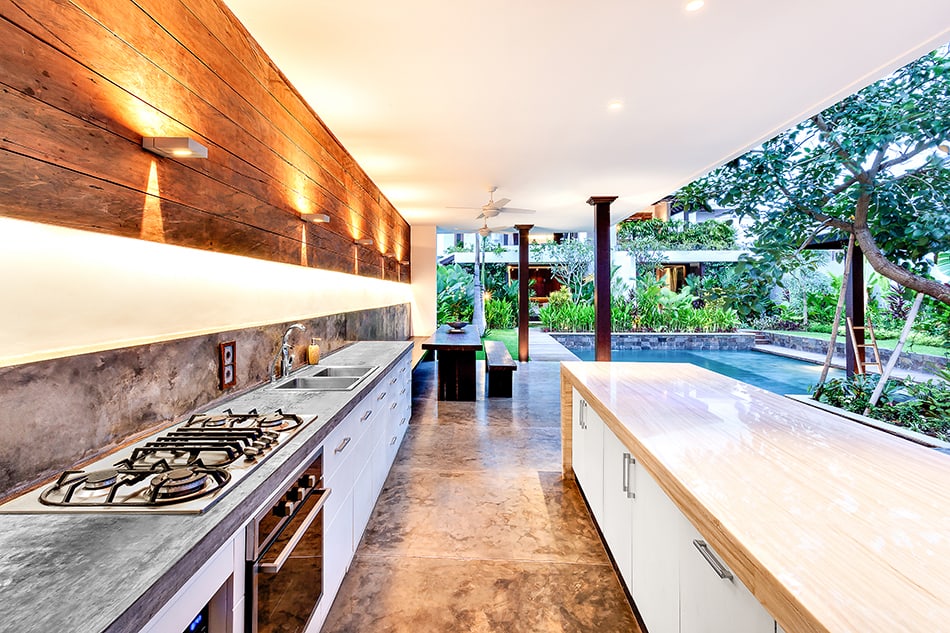 You would be surprised to find out that you'd be spending a hefty amount on the appliance if you are to build an outdoor kitchen. The grill alone, which many consider is the heart of an outdoor kitchen, would cost you up to $10,000. Of course, the price would depend on the size and the BTU (British Thermal Unit) of the grill.
Fortunately, many manufacturers offer grills at different price points. You can acquire a drop-in grill for as low as $800. You should tell your contractor how much you're willing to shell out for a grill, as well as the features you'd want it to have.
Here's one tip to keep in mind—don't spend too much on the grill. You may have a high-end grill, but it would look out of place if it is surrounded by cheap counters.
A vital part of any outdoor kitchen is the sink. It's not the only space where you can wash your dishes. You can also do other things here such as preparing your food. Of course, it is in the sink where you can get to wash your hands before eating. The good news is that stainless steel sink is inexpensive compared to a grill. You can get one for around $100. The cost may be low, but getting a sink can tremendously increase the value of your home as the outdoor kitchen can practically serve as your home's second kitchen.
You can also get a refrigerator for as low as $400. High-end ones designed for outdoor use can cost you $1,000. You may also forego the refrigerator if you are on a budget. However, you need to place the outdoor kitchen near the indoor kitchen so that you can have a shorter time getting food and other essentials from your current refrigerator.
Another tip that you may want to consider is to place a cooler during a party. Put ice on it to keep drinks cool during a party. This may be a more practical alternative to buying a refrigerator.
Countertops
A countertop would also be an essential part of the outdoor kitchen. This is where you can prepare your food for a cookout.
Some counters are already integrated with the grill, but you can also have a counter that's custom-built or prefabricated. If you're going this route, you must make sure that the counter would have ample room for food preparation as well as for the grill and the sink.
On average, expect to shell out around $200 to $600 for every square foot of a counter framework. The price will also vary depending on the countertop material. The most popular material would have to be granite. But you must also be ready to shell out a significant amount for a granite counter, as it averages $80 per square foot.
If you find that too expensive, you can settle for cheaper alternatives such as bluestone and soapstone. A tile counter is also the cheapest option for you, costing around $10 per square foot. However, these alternatives may not be at the level of granite in terms of beauty, durability, and life span.
Flooring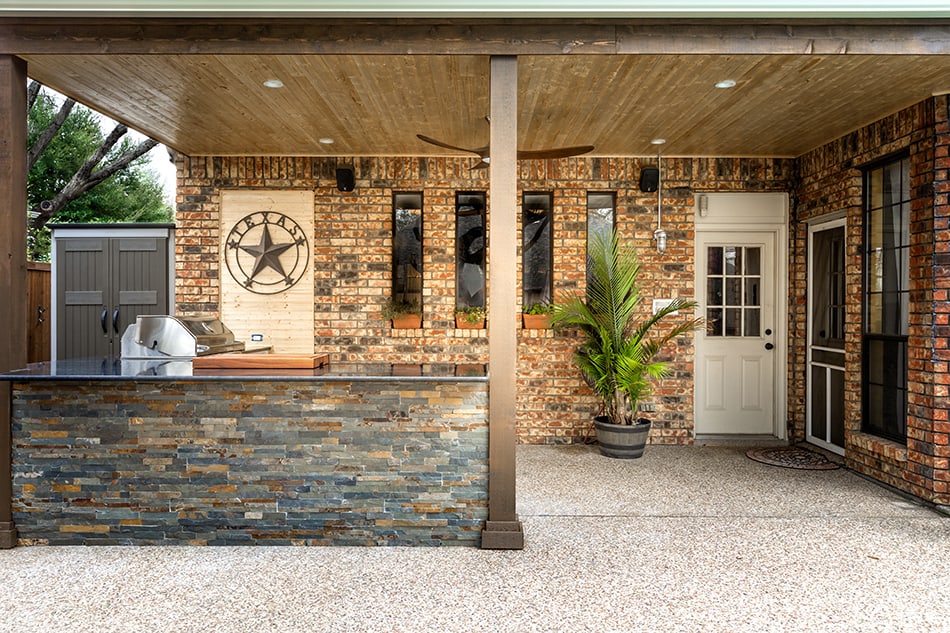 Another must-have for the kitchen is the flooring. Many people would think that flooring is not exactly a necessity for an outdoor kitchen project. But more than setting the look and feel of an outdoor kitchen, the flooring plays an important role in protecting those who are working in the kitchen.
The best flooring material for an outdoor kitchen can prevent slips and accidents. Avoid buying or using porous or glazed tiles and stones for outdoor kitchen flooring, as these materials can be slippery when wet.
Similar to indoor kitchen flooring, there are plenty of choices to choose from for the flooring of an outdoor kitchen. One of these is tile, which is not only versatile in terms of looks but also easy to clean and install. You should allot around $500 for it, although the price may vary depending on the area of coverage.
You can also opt for poured concrete which is also a popular choice because it is durable and easy to clean. If you are to have it professionally installed, expect to shell out around $3,000.
Another option is stone, which is both beautiful and durable. Natural stone can cost around $50 to $100 for every square foot. Manufactured stone, meanwhile, is slightly more expensive, starting at $60 per square foot.
Fencing
If you're investing heavily in your outdoor kitchen, including the addition of electronics and other valuable items, then it's only practical or reasonable to add fencing. This will not only provide privacy to your place but also enhance the security in that part of the house.
Similar to kitchen flooring, there's a lot of materials for fencing options that you can choose from. These include cedar, redwood, brick and stone, and wrought iron. The type of material and the area of coverage would determine the price of the fencing, but you can expect to pay at least $1,000 for a sturdy fence. If you are DIY-inclined, you can install the fence yourself. You must, however, be sure that the ground is level before installing the fence. Hiring a surveyor should cost you around $200 for this purpose.
Furniture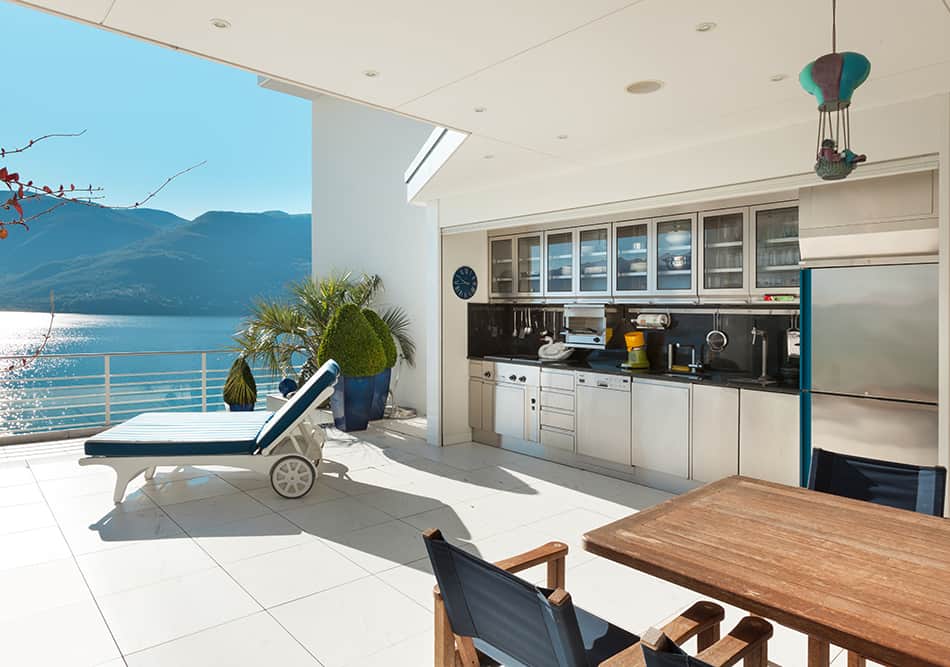 On the surface, furniture may not seem like a necessity for an outdoor kitchen. But think about it—when you throw a BBQ party, you'd want you and your guests to sit and relax, right? You don't want them to be standing around while waiting for the food to get cooked. This scenario illustrates the need for outdoor furniture in your outdoor kitchen.
Some of the choices for outdoor kitchen furniture include chairs, loungers, and sofas. These pieces of furniture will have varied styles, fabric, and texture. It's up to you to determine the style, fabric, texture, material, and number of pieces of furniture you'd want to have in your outdoor kitchen. You must also consider the amount of space you have in the outdoor kitchen in determining the number of furniture you'll be acquiring.
Chairs, loungers, even sofas are now made for outdoor kitchens and rest areas. You can find fabric, textured, or even plastic furniture that will match your kitchen and style.
The cost will depend on the material and how many pieces you decide to have. These will also be determined by the amount of space you have available for the furniture.
Utilities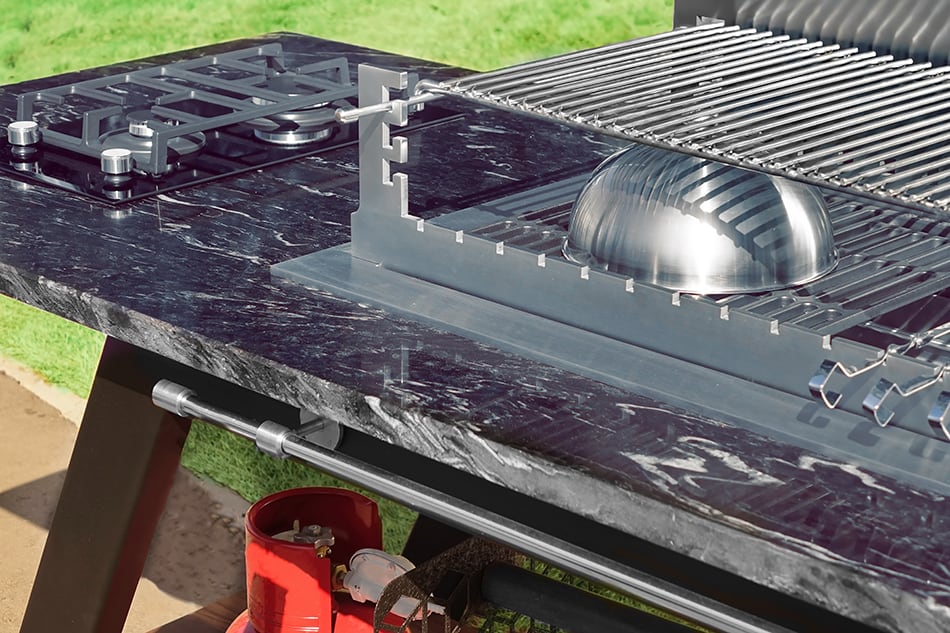 Power, gas, and water are three essentials in any outdoor kitchen.
Electricity, for one, is required if you are to plug in a refrigerator or a grill. Seek help from an electrician in this regard. As for the plumbing requirements, you could be spending around $2,000 for a professional installation. And for the gas, you are looking at costs of around $500 for installation.
Shading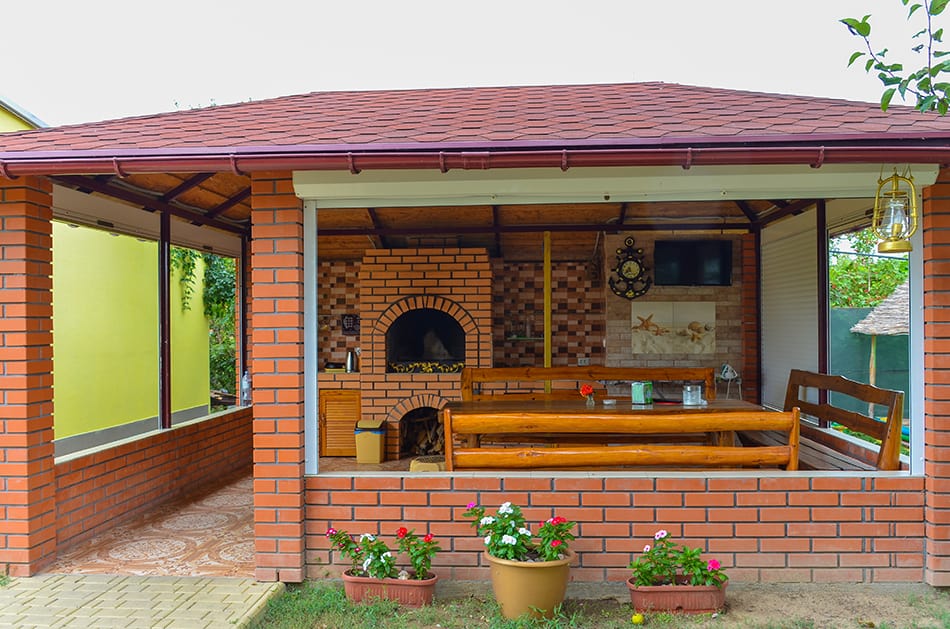 Like furniture, shading may seem like a luxury than a necessity for an outdoor kitchen. But again, with the mercury hitting record-high levels during the summer, you'd want you and your guests to be comfortable while having fun. Shade and weather protection, therefore, becomes a must for an outdoor kitchen.
You can use a simple umbrella for this purpose if you're on a budget. But if you're willing to spend around $3000 for a gazebo or pergola, then you can further enhance the beauty of your outdoor kitchen. Your guests would love it, too. You can also explore the possibility of adding an awning for shade in your outdoor kitchen.
How Much Would You Spend On an Outdoor Kitchen?
Now that you have an idea of how much you'd be spending for particular components or parts of an outdoor kitchen, you might be wondering how much an average homeowner in the U.S. spends for this project.
In 2019, a study commissioned by the Hearth, Patio & Barbecue Association (HPBA) revealed that an average homeowner in the U.S. spent $11,000 to $13,000 on their outdoor kitchen.
An outdoor kitchen is quite an investment, but you can get it back in the long run as it will increase the value of the property in case you'll sell it in the future. And let's admit it—having an outdoor kitchen can make your summer more enjoyable with family and friends.