Designing a nursery room for your newborn can be an incredibly exciting task. Once you've chosen the crib, the toys, the wardrobe and all the accessories for your baby's room, the last detail is the curtain. To help your baby sleep better and for longer, you must pay particular attention to the window treatments.
If you want some useful information on how to choose the best curtains for the nursery room, just follow our buying guide right here.
Choosing the Right Curtains for the Nursery
Color and Pattern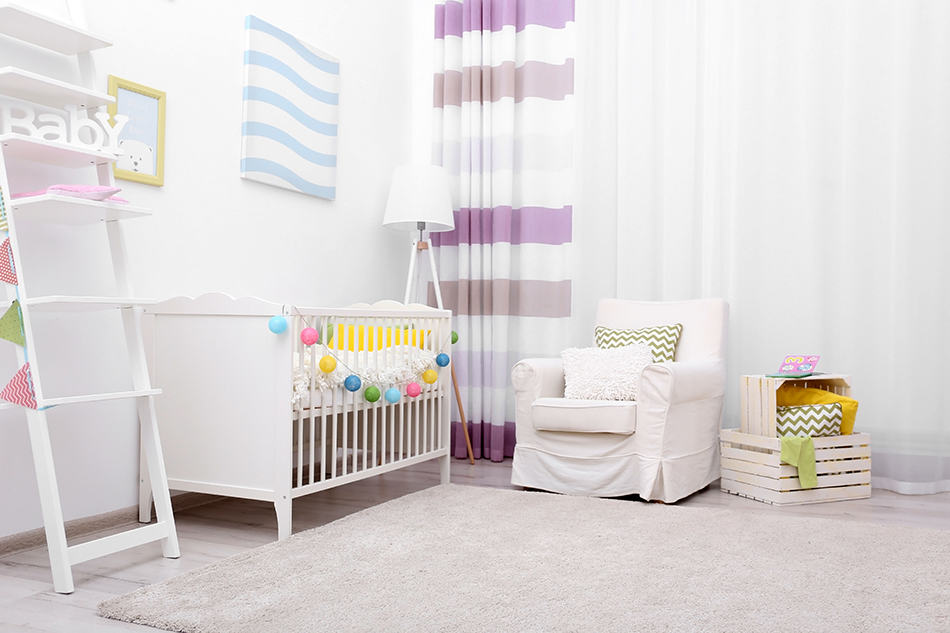 The curtain you choose can be the focal point of the nursery. This window treatment has to stand out in the room to draw the eye directly to it. You'll want to pick a curtain that you and your baby will enjoy for several years, so make sure the pattern and color stay relevant as your child grows. Avoid designs that are too infantile. Otherwise, you'll both grow tired of it.
The best way to draw attention to the curtain is via color or pattern. Opt for eye-catching drapes that your child will love looking at. Alternatively, go for neutral hues like beige or white and avoid loud patterns.
Material and Thickness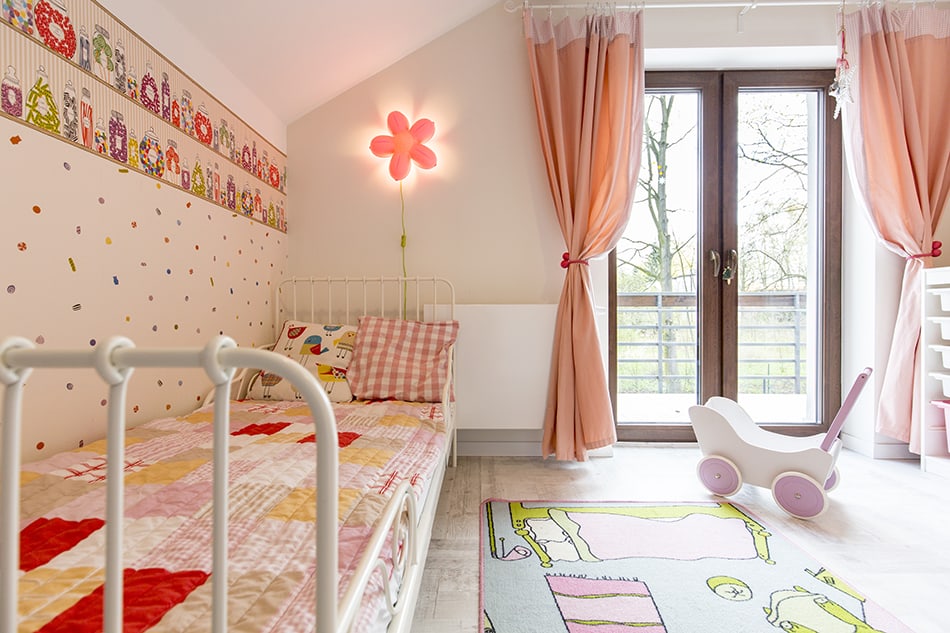 The best materials for nursery room window treatments are cotton, microfiber, polyester, faux linen, and silk. But aside from the curtain's material, you also need to decide on its thickness. Thicker fabrics block out more light (up to 99%) and keep the baby's room warmer during the winter months. Thinner, lightweight curtains, on the other hand, allow more light to enter the room and keep the nursery bright and cheery. The thickness depends on the climate you live in so take these factors into account.
Length
Floor to ceiling length curtains are fine for your baby's first 6 months. However, they're not so practical once your child starts walking and tugging at the curtain. Long-length curtains aren't safe and can collect dust or dirt easier. The last thing you want is for the window treatment hardware to fall on your baby and injure them. This is why it's recommended to choose shorter length curtains without pull strings. Ideally, you should go for box valances with ribbon trimming or balloon shades. These curtain designs bring visual interest, especially if they are in attractive colors or patterns.
Short-length curtains can be enhanced by sewing a rod pocket into their top fabric panel before mounting on the window frame. You may also use a ribbon in complementary colors to loosely lift the middle or bottom section of the curtain.
Theme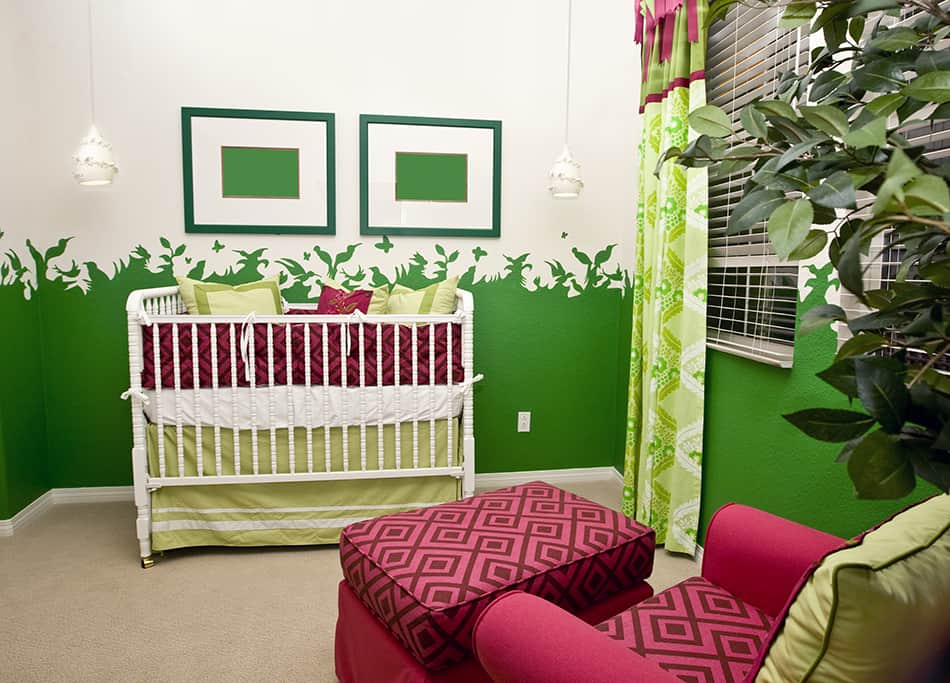 Finally, another of the most important details you should pay attention to is the theme of your nursery room. Curtains are an excellent way to express a particular theme through textures, colors or prints. Most parents think about the theme first when designing their baby's nursery. Once you've come up with a theme, you'll be in a better position to choose a relevant color for the curtain.
For example, if you're going with a safari or nature-themed baby's nursery, why not match the green and white walls with complementing curtains? Or maybe go for lush animal print … perhaps a Disney princess print for the girl's nursery and for the baby boy's room, starry sky print? As you can see, the options are endless!
Best Nursery Room Curtains
So by now you should have a better idea of how to choose the right curtain color, fabric, length and theme for your baby boy's or girl's nursery. To make your search for curtains even easier, here we have selected 10 high-quality nursery room window curtains that we're sure you'll love.
Baby Elephants Playing With Butterfly Design Curtain
With this dye-free, extremely soft and lightweight nursery curtain, you'll be bringing a smile to your child's face thanks to its beautiful baby elephant design. Made from 100% brushed microfiber fabric, this room darkening curtain is ideal for any modern nursery decor.
There are 44 interesting patterns to choose from so you're spoiled for choice!
Twinkle Stars Blackout Curtain
Your little one will always look forward to bedtime with this blackout curtain. Made from soft, silky microfiber fabric, this skin-friendly twinkle star curtain is ideal for a boy's or girl's nursery.The double panels are thick enough to block 90% of sunlight and prevent UV rays. The manufacturer also offers many different vibrantly colored patterns to suit any nursery decor.
Triple Weave Egg Blue Nursery Curtain
Featuring black woven microfiber that feels incredibly soft to the touch, this triple weave blackout curtain is drapable and heavy to ensure UV rays are blocked from the nursery. With this energy efficient curtain, you can rest assured knowing your baby will sleep well in winter and summer. The curtain is also soundproof and comes in 17 solid colors to complement your baby's nursery.
Pink Silver Star Curtain for Girl's Nursery
Here is a full panel of silver stars on a pink backdrop that is sure to impress your baby. This blackout curtain is ready to hang and comes with 2 panels with 8 top silver grommets to elegantly dress a girl's nursery. The panel features 99% noise and light blocking properties, but be sure to choose a dark color if you want better blackout. The heavy microfiber material helps insulate the nursery room against cold weather, thus balancing room temperature.
Two-Layer Hollow-Out Star Curtain for Girl's Nursery
Give your nursery room a great style with this cut-out hollow star curtain. It is ideal for the girl's nursery and goes perfectly with a dreamy princess theme. The package includes 1 sheer layer piece attached to the blackout curtain with 1 tieback, butterfly bow ties and grommets. The front part of the fabric is matte linen with printed pattern while the back side is a shiny silk with printed pattern. This gives you the option of hanging the curtain inside out, if you wish.
No matter how you hang this themed curtain, it is sure to give a beautiful look from inside and outside the room. And when the sun shines on this curtain, the hollow-out stars will emit light and form a dreamy starry sky!
Pink and Grey Twinkle Star Curtain
To create a dreamy atmosphere for your little one, we have chosen this beautiful pink and grey twinkle star curtain to lighten up your decor. The white gauze layer of the panel is covered with blackout fabric in order to provide enough darkness in the room. Your little one will have the most peaceful sleep while the stars twinkle on the sheer panel. The hollow stars are designed to cut the light from entering into the room. The specially designed curtain is sure to create a dreamy sense for your child's nursery room.
Light Purple Double-Layer Room Darkening Curtain for girl's Nursery
We have another stunning curtain for the girl's nursery room, and this time it is in light purple color. This room darkening curtain is made of polyester. It is easy to hang and designed to be wrinkle free, no matter how many times you wash it. The smooth fabric is ultra silky and luxurious, but best of all, it is designed to protect your little one from sun exposure. The thread trimmed fabric comes with silver rings and is available in different lengths and colors to fit your theme. The blackout curtain impedes light and reduces noise thanks to its triple weave technology.
Clouds Pattern Curtain for Boy's Nursery
Now how about decorating the boy's nursery with this clouds pattern curtain. Its fun and bright design offers a youthful and stylish appeal, which is sure to cheer up your little one. The package includes 2 blackout panels with 8 silver grommets that are compatible with rods. The 100% polyester fabric comes in 20 different patterns.
Lily White Voile Sheer Curtains
Turn your baby's nursery into a luxury space by adding this sheer voile curtain to the room. You won't regret choosing this stunningly designed sheer layered curtain. Made from 100% quality polyester, this extremely soft window covering comes with 2 sheer panels and a 3-inch rod pocket on top to fit any standard rod.
Faux Linen Two-Color Curtain for Girl's Nursery
If you like linen curtains, then you'll love this two-color curtain for a girl's nursery. This faux linen curtain is semi-transparent, breathable and drapes beautifully. To add elegance to your baby girl's room, and protect your privacy, then this curtain is the perfect choice for you. It is transparent enough to let just the right amount of sunlight into the nursery while providing you with enough privacy with your child. We especially love the two color design of this curtain for added charm. The top color on the left meddles well with the other color on the right to make your little one feel delighted and happy.