When it comes to decorating your walls with themed artwork, it's all about showing off your personality and expressing your interests. Coastal decor is a much-loved theme that allows you to bring the beach life indoors. This can be shown through marine life, anchors, ship wheel and other motifs.
Love the idea of decorating your walls with nautical-themed art? Then take a look at our rustic coastal wall decor ideas and our recommended products to give your home a seaside vibe.
14 Beach-Themed Wall Decor Ideas
1. Decorative Seashells on Wooden Plaques
If you're inspired by the sea, you'll love this set of 3 beautifully crafted decorative seashells. This is a unique wall decor collection that allows you to add a coastal flair to your interior. The hand-painted 3D shells on whitewashed wooden plaques are in soft pastel colors that emit a relaxing beach vibe. The rustic distressed finish is ideal for all coastal-themed rooms and each set comes with 3 wooden plaques that are ready to hang with anchors and screws.
2. Hand-Painted Ocean Blue Oil Painting
Our next coastal wall decor is ideal for art lovers. Start dreaming of the beach with this beautiful canvas oil painting. The artwork features seagulls perching on the shoreline. This original 3D wall art is painted by a professional artist with rich textures in the paint brush strokes. The nautical themed wall art is perfect for the living room, bedroom, bathroom, home office or dining room. You may even display it on the wall of your hallway as a focal point. It is guaranteed to grab your guests' attention!
3. Nautical Themed Wallpaper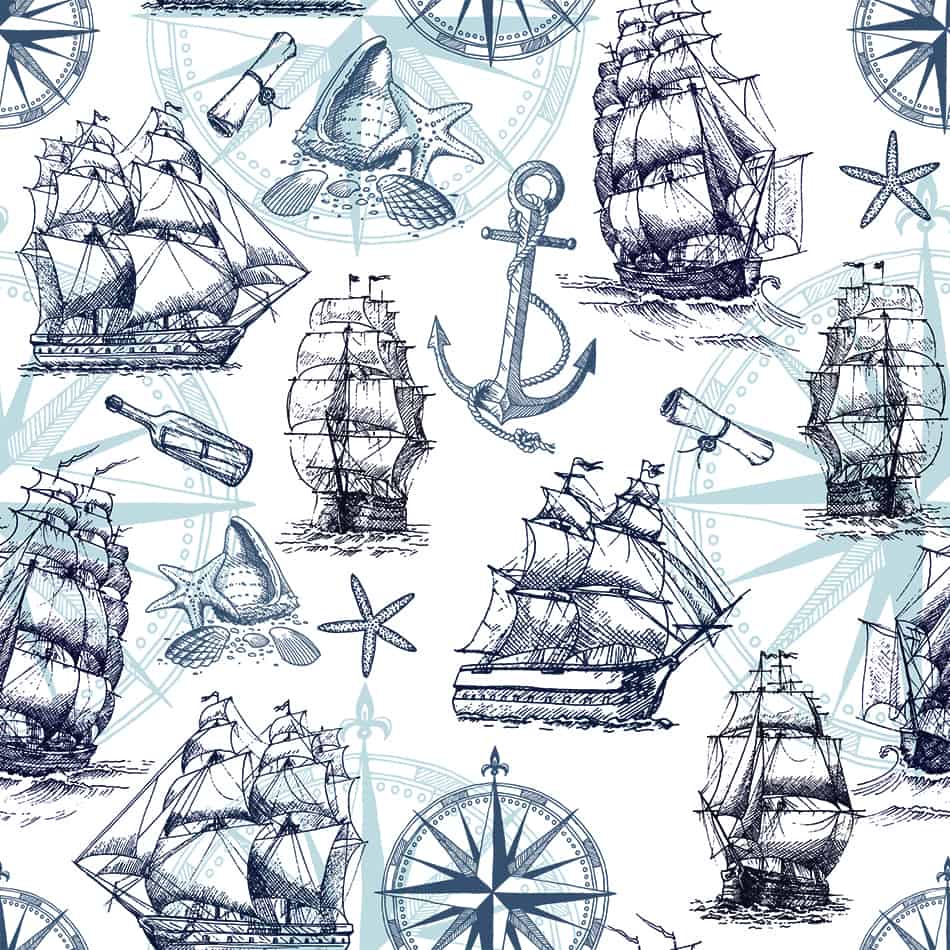 Nautical themed wallpaper serves as an excellent way to brighten up a dull bedroom or living room. Such wallpapers come in a wide variety of patterns, from seashells and anchors to sea creatures in multiple colors. This seamless marine patterned wallpaper example will add a relaxed coastal charm to your walls. It will make your space feel bright and airy, especially when paired with rustic beach-themed wall decoration pieces. With a coastal themed wallpaper, you can hang any of our recommended wall decor ideas to enhance your interior.
4.  Beach-Themed Wall Motifs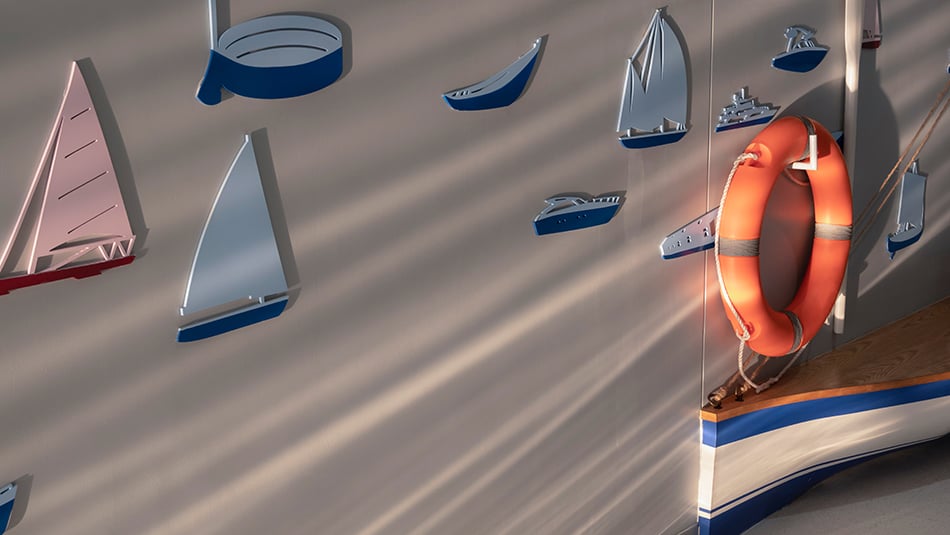 Expand your seashore decor beyond wallpaper and wall art by going all out with wall motifs. These can be anything from sailboats, nautical flags, anchors and knots to add depth and personality. To take your nautical theme even more prominent, incorporate matching wallpaper with whimsical coastal motifs like the ones shown here. This pale blue wall serves as a backdrop to brightly colored and charming motifs. These decorative items are the perfect rustic features that complete a vintage seaside theme.
5.  Beach Style Floating Shelves
No coastal themed interior is complete without shelves! Whether you want to display your framed photos, plants or other decorative items, you'll need floating shelves for a complete coastal look. This beach style set features a faux wood finish and rectangular silhouette for vintage appeal. These floating shelves will work perfectly in shabby chic and contemporary farmhouse interiors. Simply hang them above the fireplace, between windows or anywhere you like on the wall. These versatile shelves are in aqua green color and sturdy enough to hold your small objects. All the mounting hardware is included in the package and the maximum weight capacity for each shelf is 8 pounds.
6.  Rustic Style Framed Beach-Themed Wall Decoration
Bring that beach vacation feeling to your home with our next wall decoration idea. Featuring rustic nautical shapes, this set of beach-themed wall decor includes anchor, a lighthouse and ship wheel. It is the perfect accent to any nautical interior. The soft pastel colors and farmhouse style distressed finish will add a relaxing vibe to your home. The unique 3D wall decor is suitable for any room including nursery, kitchen, bathroom or bedroom. The beautiful set comes with hanging hardware like screws and anchors for your convenience so you won't have to buy any additional nails or mounting equipment.
7. Vintage Coastal Blue Wall Clock
8.  Round Rope Mirror with Hanging Loop
To complement your wall clock, consider pairing it with this decorative rope mirror featuring crystal clear glass that's accented with hemp rope in brown color. If you don't want the round shaped mirror, there are also oval and rectangular shaped mirrors available in the same design. This coastal themed mirror with hanging loop is the perfect addition for the bedroom, bathroom, hallway or living room. The rope hanging mirror comes with a saw tooth hanger and loop for easy installation on the wall using screw or hook.
9. Round Metal Compass
This black metal compass will be the center of attention on your walls. Hang it in any room to add a sophisticated nautical feel. The distressed iron finish completes the rustic look for those who want to enhance the serene natural feel of their interior. The keyhole is located on the back of the compass for easy hanging. What we love about the design of this metal compass wall decor is its open design, which allows the wall color to shine through. Install the compass in the middle of the wall, above the mantel or on the wall above the sofa to add a rustic vibe to your living space.
10. Mediterranean Style Hanging Ornaments
For those seafarers who love Mediterranean style wall decor, we have these stylish hanging ornaments that will look beautiful in your coastal themed home. In fact, no nautical themed home is complete without these essential decorative items. The handmade wooden anchor and ship wheel are made from premium quality and durable wood so you can enjoy them for many years. The color of the wooden ship wheel is white and light green and features small sea shells, a fishing net, starfish and seagull. There is also a rope on the wheel for added appeal. We recommend hanging these stunning ornaments on your bedroom or living room walls. The easy to install wooden ship wheel and anchor come with small metal hooks on the back for simple mounting on the wall.
11. Cast Iron Seahorse Wall Hooks
Need wall hooks to hang your clothes from? Why not add some shabby chic flare to your hallway or bathroom by choosing this seahorse inspired wall hook. The unique sea design of this rustic bronze and turquoise finish brings vintage beauty to your interior. The sea inspired wall hook is made from durable cast iron and ideal for hanging keys, coats, towels, hats, umbrellas and just about anything else you need to hang on hooks. The heavy duty wall hooks are the perfect size for your rooms measuring 11.2 inches by 4.5 inches by 2.2 inches in diameter.
12. Beach View Window Canvas Art
For those who don't live by the sea but still want a beach view, here is a window canvas art that depicts an open window with grass rising above the sand. The dreamy ocean view in this wall decor works especially well in windowless bedrooms and nautical themed living rooms. In fact, you can refresh any room of your house with this seascape window wall art print. The beach view artwork is printed on high quality canvas with fade resistant ink, which makes the artwork easy to clean.
13.  Relax By the Beach Painted Wood Block Signs
14. Rustic Wood Hanging Swing Shelves
Did you find our coastal wall decor ideas inspiring? Go ahead and adorn your living room, bedroom, bathroom, and kitchen walls with any of the rustic examples we've listed here.