Whether you're looking for some privacy or just a fun room divider, beaded curtains are the perfect way to accentuate your home. These decorative curtains have been around for a long time, but most people still associate them with the 'hippie' style of the 60s and 70s. With the passing of time, however, beaded curtains have undergone massive design changes with many contemporary and boho style variations available now.
To give a gentle sense of separation and brighten up your spaces, it makes sense to utilize these beautiful creations. Still not convinced? You'll be surprised to know the many different uses for beaded curtains, which we will explore in more detail right here.
Keep reading to learn more about the uses of beaded curtains for doorways including our top picks that will complement any interior decor.
Why Use Beaded Curtains in Your Home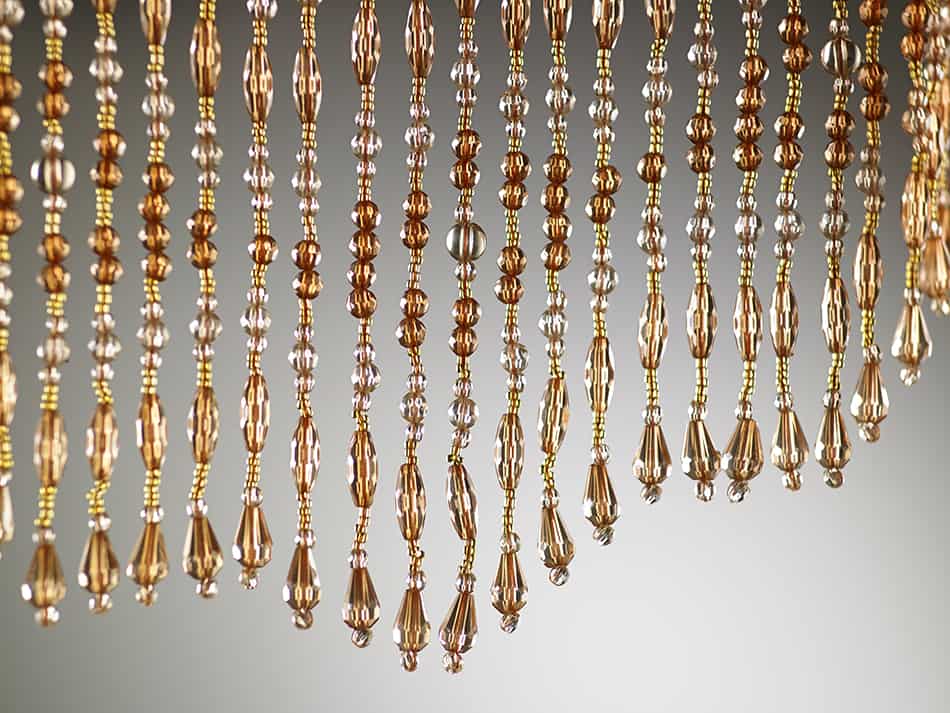 Beaded curtains for doorways are the perfect alternatives to traditional room dividers or screens. These decorative hangings provide a good amount of privacy and can be hung just about anywhere: on window frames or in doorways.
For example, you can hang your crystal beaded curtains on the wall, windows, bedroom, patio, home office, kitchen, balcony, laundry room, and more. Beaded curtains maximize air circulation and make the indoor air fresher so you and your family can live healthier.
Some people choose to hang their beaded curtains in their closet doorways or create a unique theme for their personalized rooms. But no matter where you hang these room dividers, you will increase your privacy as well as brighten up your room thanks to the light-reflecting crystal glass beads.
Whether you want to create a boho or Asian-themed vibe in your home, there are plenty of beaded curtains to fulfill your desire. We have come up with a collection of 11 beautifully designed beaded curtains that you will surely find interesting.
Our Top Picks of Beaded Curtains for Doorways
Bohemian Beaded Curtains
If you're into boho chic interior design, almost any beaded curtain that looks unconventional will suit your space. Bohemian style is for the free-spirited so it doesn't matter if the curtains are made of pearls, crystal glass or wood. Wild patterns make a great combination with tassels. But to really make an artistic impression, go for the most authentic looking, whimsical curtains that complement bohemian style.
This string curtain, for example, is beautifully beaded with plate color, dew drops that come to life in a boho-inspired room. The beaded curtain comes with a slot top, which makes it super easy to install on a pole or rod.
Eclectic Beaded Curtains
The eclectic style is so versatile that it can be used with any type of beaded curtain. Simply pair the curtain with accent colors using a texture that complements the decor.
The beaded curtain we've picked for the eclectic style interiors can be used as a room divider, doorway curtain, wall decoration or window treatment for extra depth. The excellent quality crystal glass beads are super shiny that bring sparkle to any space. This beaded curtain is particularly suited in contemporary homes. It also makes a beautiful alternative to ordinary door curtains.
Modern Beaded Crystal Curtains
Modern style interiors benefit from sleek, shiny decorations so always pick doorway curtains that have lots of shine and sparkle. Glass, string or metallic beads go hand in hand with modern rooms. The beads can be in various shapes like squares, circles, hoops or bubbles in clear glass patterns.
For example, this string room divider with its stunning glittering effect is an ideal addition to a modern bedroom or living room. The curtain is super easy to hang and can be mounted on a standard curtain rod.
Oriental Bamboo Beaded Curtains
Since beaded curtains are associated with the oriental world, it makes sense to incorporate this style into your Asian-themed interior. Bamboo is the best material that emits an oriental vibe. The material is ideal for curtains as it is long lasting and sturdy.
The bamboo beaded curtain we've chosen for you comes with a convenient wooden hanger at the top to complete the natural look of the curtain. This classy, handmade room divider looks classy and mimics a tropical style. The material is made of 90 strands of bamboo beads that you can tie to the side of the doorway, inside the doorway or simply let it hang down. When used in any Asian-inspired room, the bamboo beaded curtain will create the illusion of a separated area.
Retro Blue Beaded Curtains
Are you keen on the retro design? Then this blue beaded curtain is very easy to install and gorgeous to look at. The glistening silver beads give a sparkling effect and not to mention much charm! And if you want to increase your privacy, you can add two or more string curtains for extra thickness. The polyester curtain's ribbons can easily be cut to the preferred size so you can hang it virtually anywhere – even in your patio where it will keep flies out.
Tropical Beaded Curtains
Now who doesn't love the tropical, beach-themed design. Using doorway beaded curtains that are made from natural materials will mimic a beach-inspired room. Think seashells or tropical motifs as accents. You will often find hand painted artwork on such curtains, but be warned: you'll get overwhelmed with options!
To save you the hassle of looking for such curtains, here we have a true piece of artwork. This hand painted beaded curtain fits any doorway or window and looks beautiful when hung as wall art. The high-quality bamboo curtain is made from 4000 beads, each painted with the tropical image that's viewable from any angle.
Macrame Beaded Curtains
Most of us associate beaded curtains with the 60s and 70s. The reason is that such curtains are made from natural materials that were very common in those eras. One popular material is macrame.
Macrame beaded curtains are the perfect addition to traditional interior decor. They add instant warmth and texture to the room. Here is a beige example made from cotton. It fits perfectly on the doorway or window.
Rustic Wooden Beaded Curtains
Rustic interiors can also benefit from beaded curtains. This is why we have selected a wooden beaded curtain with 65 strings made from solid and smooth wood. The beads of this curtain are strung using a polyester rope, which is 100% child-friendly. The curtain comes with all the necessary hardware needed for the installation. Simply clip the top part on the hanging rod and screw it into the steel nail.
Multi-Color Beaded Curtains
If you like shine and glitter, we have another retro design beaded curtain that will brighten up your interiors. This multi-color curtain will decorate the window, doorway or can be used as a fly screen. The panels have a silver foil with each string giving a glitter effect. The shimmering doorway curtain is ideal for disco parties and you have the option of choosing the shiny gold version if you want to add glamor to your space.
Purple Sequin Beaded Curtains
A purple sequin design is ideal for those who want to add a bit of color to their spaces. Purple comes in many different shades, yet it still creates a sense of separation. This double polyester beaded curtain is washable and long lasting with glistening silver ribbons for a shiny effect. We love the soft texture of the string curtain. It will drape beautifully in your home and the model is available in 23 other colors in case you prefer a different shade.
Nature-Themed Beaded Curtains
If you are looking for more privacy with your doorway beaded curtain, then consider this nature-themed beaded room divider. The tree of life beaded artwork is simply stunning in any room. There are 4000 beads cut into sections and made from natural bamboo stalks. The beads are then hung together by hand with the help of wires. 125 strands are then attached to a wooden bar to complete a durable beaded curtain. The entire curtain's image is hand-painted and fully viewable from all angles. In fact, you can even shorten it or make it wider without sacrificing the design.
Wrapping it Up
There is no denying the unique beauty of doorway beaded curtains. These hangings add an elegant and thematic touch to any modern or traditional space. To match your interior decor with the curtains, make sure you pick the same material or color as the rest of your furnishings. For instance, if your home has a great deal of wooden or bamboo features, you can complement them by choosing wooden or bamboo beads. The same goes for accent colors in your throw pillows and floor covering that can be matched with multi-color room dividers, so just follow the same look. Using beaded curtains in any room gives the space a personal and welcoming touch. We hope our list of beaded curtains for doorways examples have inspired you enough to add them to your home.