If you are lucky enough to have a basement in your home, there are hundreds of ways you can use this versatile space. A basement can function as a storage room, laundry room, movie room, games room, or even an additional living space. Choosing the right flooring for the basement takes a little extra care as the wrong selection can prove to be disastrous. This is why I've come up with the best basement flooring options with pros and cons of each one. But before we get started, consider the following factors:
How Do You Plan to Use Your Basement Space?
How you intend to use the basement will affect the type of flooring you choose for this space. For example, will it be an additional bedroom, kids' room, living room, an office, or a gym? Are you thinking of converting your basement to create an extra family room or do you just want to use it as a storage room? With that in mind, go through this additional list of questions before deciding on the right flooring:
Is your basement well-ventilated?

How warm is your basement in winter?

Is your basement humid in summer?

Is it prone to moisture or flooding?

How will you prevent moisture buildup?

What is your budget for the flooring?

Does it have a sub-floor already, such as plywood or concrete?

Is the sub-floor flat or uneven? 
Now that you've determined how you will be utilizing your basement space, you can browse my list of 8 basement flooring ideas & options to help you make an informed decision. 
1. Sheet Vinyl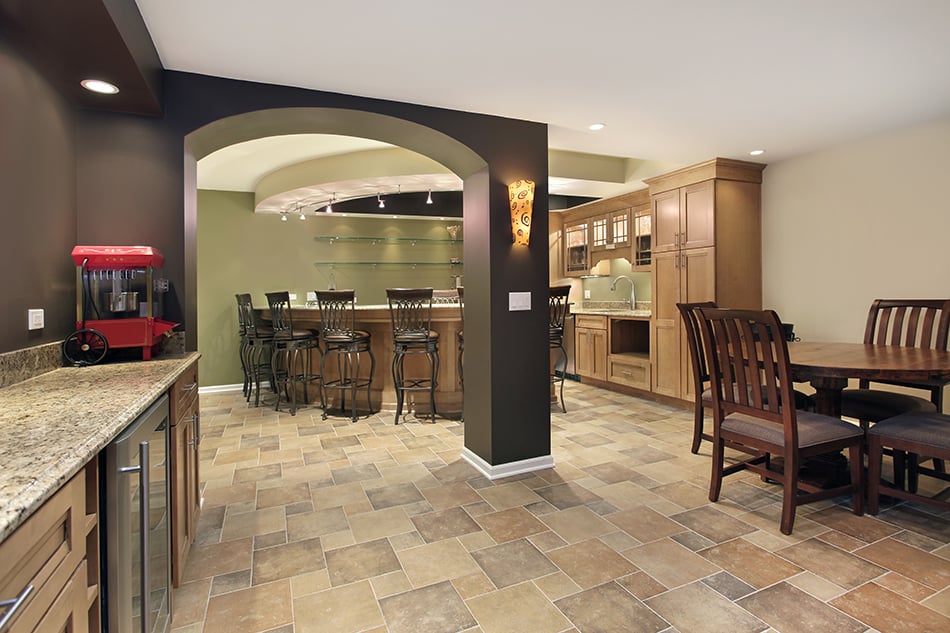 Sheet vinyl may look a little outdated, but it has come a long way since the 'ole grandma days. This material is now a multi-layer and durable flooring option that is easy to clean and the modern designs are of high quality. To install sheet vinyl in the basement, the sub-floor must be smooth and flat, otherwise the flooring will not last long. Sheet vinyl rolls are usually up to 12 feet so if your basement is larger, you'll need to buy a seam  to cover the entire area. Contrary to popular belief, sheet vinyl can withstand high traffic areas and comes in a variety of designs to mimic stone, tile, or wood.
If you take a look at this image of a converted basement which is used as a dining space, the flooring doesn't look any different to tiles or laminate. The modern-day sheet vinyl is manufactured to last just as long as other materials and highly suitable for most rooms of the house – not just the basement.
Pros:
Cheap to buy and install

Keeps moisture out

Mimics tile or laminate flooring

Warmer than concrete and tile floors
Cons:
Looks outdated

Requires a sub-floor

Not a DIY job

Sub-floor must be even 
2. Engineered Vinyl Planks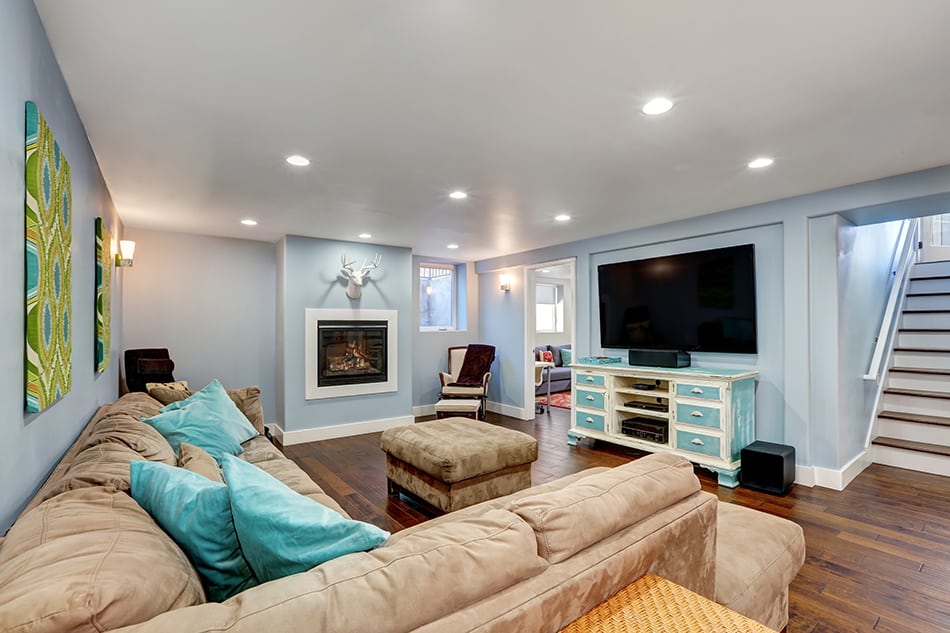 Engineered vinyl planks or LVPs are a luxury and a relatively new type of flooring. This material is ideal for basements as it prevents moisture and looks great at the same time. In fact, it looks just like a laminate floor and can be used in all the rooms of the house. You can even install it yourself!
To do this, you must first install a concrete slab sub-floor with a vapor barrier between the vinyl plank and the sub-floor. Although engineered vinyl floors are waterproof, the pressure from the ground can still bring up water from the foundation.
This image shows the basement being used as a living room and just like most living spaces, engineered vinyl planks are ideal as they look like laminate floors. 
Pros:
Feels and looks luxurious

Waterproof

Affordable and easy to install

Long lasting

Thicker and warmer than sheet vinyl

Has insulating properties

No adhesive required 
Cons:
Doesn't work on bumpy or uneven floors so you must level out the floor prior to installation

More expensive than other vinyl materials 
3. Ceramic Tile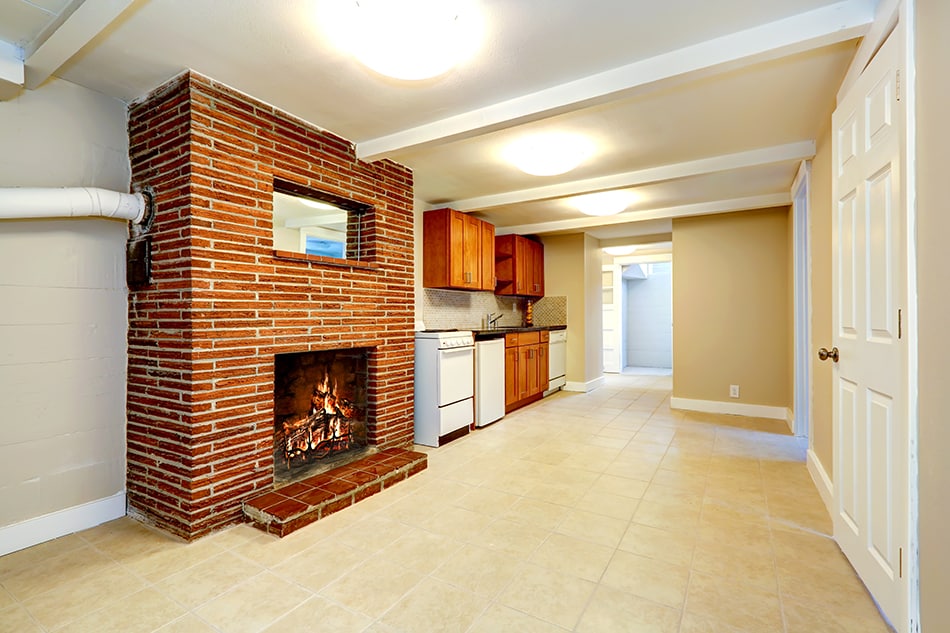 Ceramic tile flooring is one of the most popular options thanks to its vast styles and high durability. Not only can you match the tile patterns to your basement, there is also no need to worry about moisture as tile is known for its water-repellent properties. To avoid slipping on the tile floor after mopping or in the event of condensation, opt for an anti-slip finish. 
This basement can easily be used as an additional living or dining space. While tile flooring may feel colder, there is a cozy fireplace to keep you warm during winter where you can sit in front of an open fire.
Pros:
In the event of flooding, the tile floor will quickly dry out without any damage

Rot resistant and waterproof

Easy to clean

Durable
Cons:
Unless you are an expert tiler, the installation of this flooring isn't a DIY job

Feels colder

Heavy and hard

Poor sound absorption

The concrete sub-floor needs to be significantly leveled

Prone to cracks
4. Cork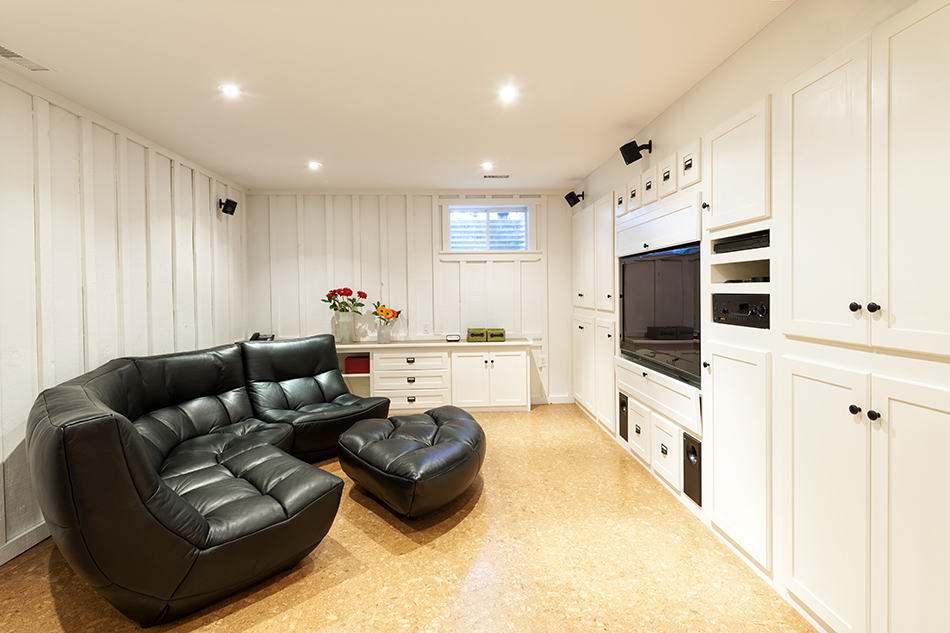 There is no denying the popularity of cork as a breathable and eco-friendly flooring material. Cork is highly resistant to water and mold, thus making it the ideal choice for basements. While it may not last as long as most other flooring materials, it is readily available and inexpensive to replace. 
In this image, the basement is converted into a functional entertainment room, and since cork flooring absorbs sound and is naturally resistant to high foot traffic, it is ideal for a basement-cum-entertainment room.
Pros:
Excellent sound absorption

Good insulation against cold

Unlike tile, cork is soft to walk on

Hypoallergenic, which means if you are asthmatic or suffer from allergies, cork has natural anti-microbial properties that repel dander and dust mites

Mold and mildew resistant
Cons:
Prone to deterioration because it's an organic material

Can be difficult to install
5. Carpet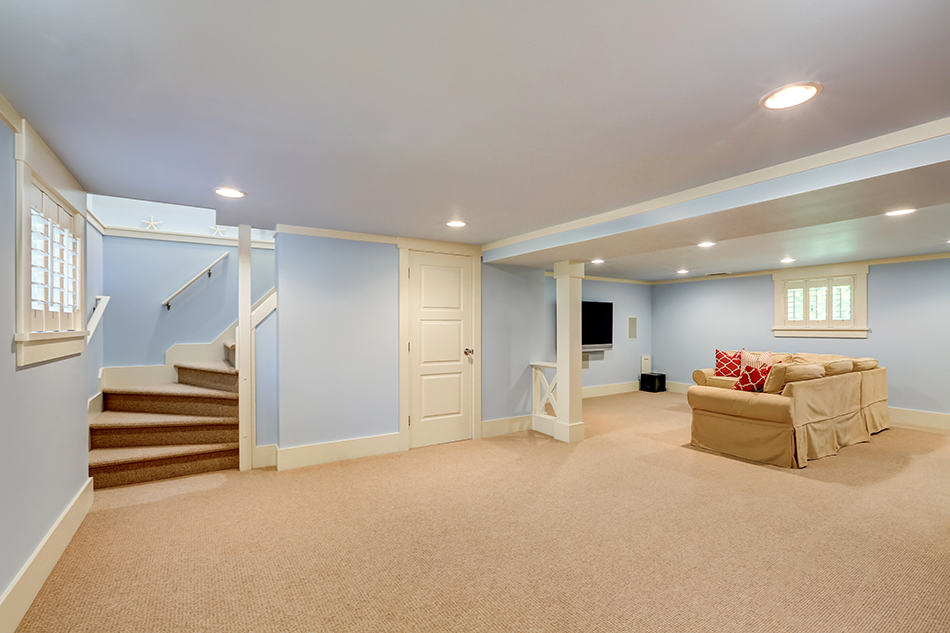 Note: you should only consider carpet flooring if your basement isn't prone to flooding or mold. Carpets are generally inexpensive to install and make a good option for large basements that are to be used as living spaces. This material is not only warm and soft, but it also works on unlevel or coarse sub-floors to hide the imperfections. 
See how this spacious basement-cum-living room looks warm and inviting with its carpet flooring. To protect the carpet from absorbing moisture in the basement, consider using a portable dehumidifier and keep the indoor temperature under 80 degrees fahrenheit.
Pros:
One of the cheapest flooring options

Softer and warmer than most other types of floors

Hides the sub-floor's imperfections 

Can be installed on uneven sub-floors
Cons:
Not waterproof

Susceptible to mold or mildew growth 

Can be smelly when moist 

Hard to clean, especially when stained 

Needs replacement more often than other types of floors 
6. Rubber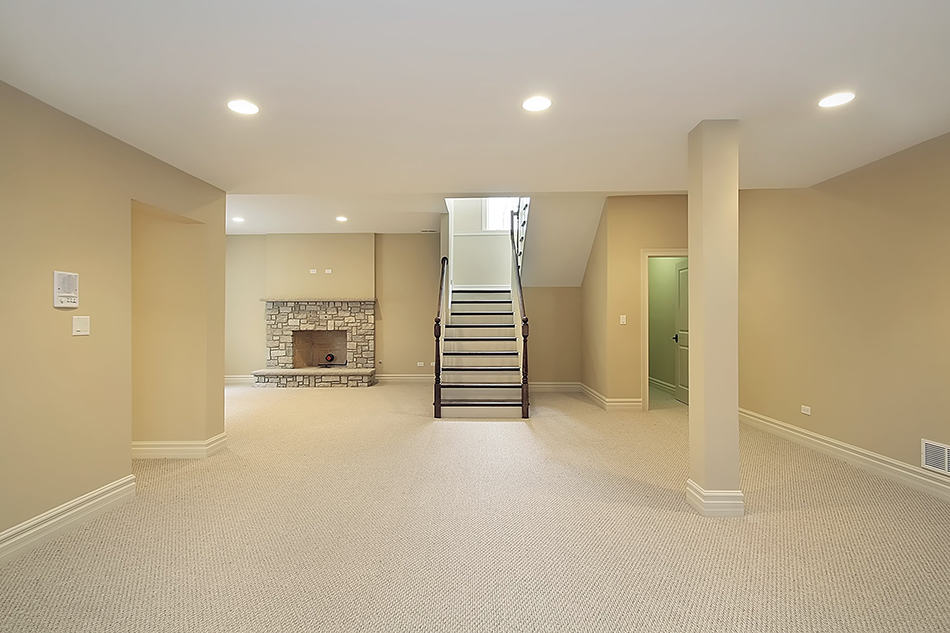 Rubber floors are mostly used in gyms, garages, and games rooms. But they can also work in modern basements like the one in this image. The basement here is intended to be an additional living space so rubber flooring makes walking on such a floor very comfortable and pleasant.  
Pros:
Provides maximum insulation 

Very soft to walk on

Resists moisture

Hypoallergenic and antimicrobial

Slip resistant 

Easy to install
Cons:
Not as aesthetically appealing as laminate or vinyl 

Not 100% waterproof as water can still leak through. 
7. Engineered Wood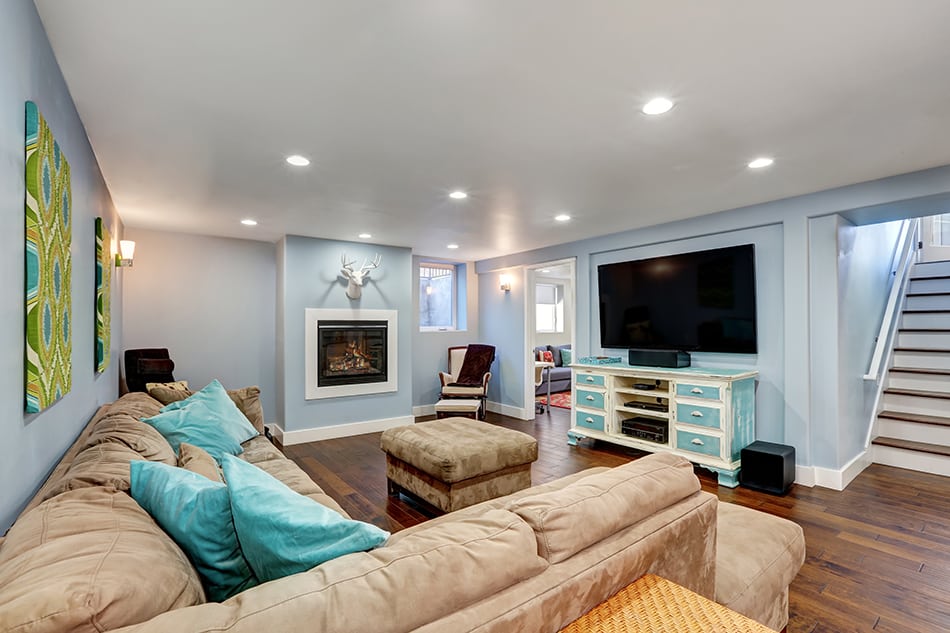 Engineered hardwood can be installed on concrete sub-floors. As per the image shown here, the sub-floor is level and even, thus making engineered wood an ideal option for basements-cum-living rooms. Note: when gluing the engineered wood to the sub-floor, make sure you apply an additional waterproofing layer as the planks can bubble up in high humidity.
Pros:
Looks stylish

Increases the value of your home

Warmer than tiles and concrete
Cons:
More expensive to buy and install

Requires additional floor preparation 

Not waterproof

Cannot be modified 

Fades away with time

Difficult to maintain

Not as durable and sturdy as tiles 
8. Stained Concrete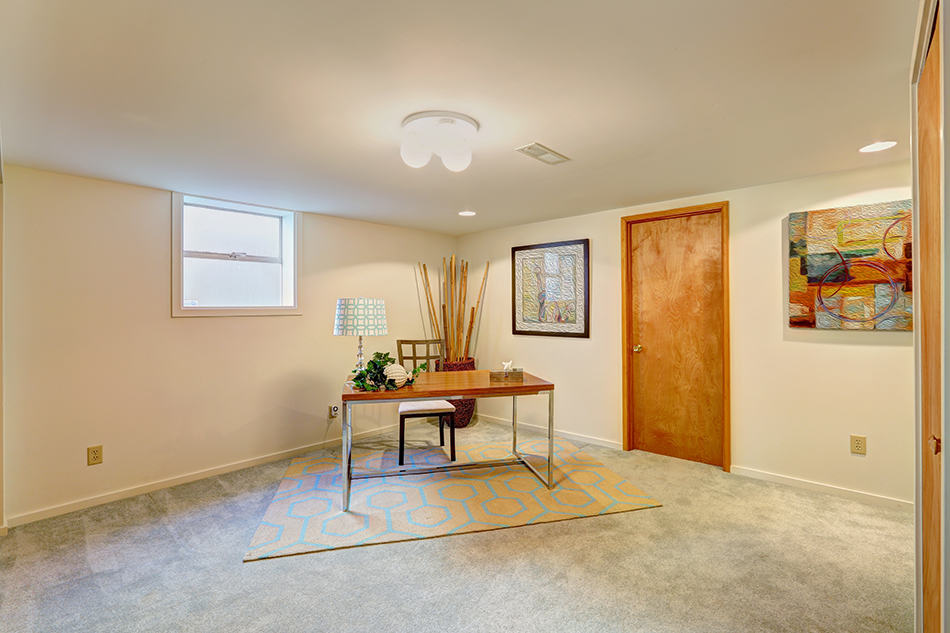 Concrete floors are gaining popularity as a minimalist style flooring that is affordable and offers a wide variety of staining options. In this image the small basement with concrete flooring is converted into an office so even though concrete can feel cold on feet, the space is only intended for part-time use. And just because the flooring is concrete, it doesn't mean the entire room feels and looks cold and uninviting. See how the neutral color of the walls as well as the wall decor make this space extra cozy and warm.  
Pros:
Moisture resilient 

No need for a sub-floor 

Can be creative with patterns and colors 

Highly durable

Cost effective

Sanitary
Cons:
Coldest option after tiles, but you can cover the floor with an area rug

Hard on feet

Poor sound insulation

Not a DIY job